May 7 – June 25, 2022
Vittorio Iavazzo solo exhibition
Our biological cycle is part of nature as seasons are too, and it is dictated by nature itself throughout time passing, climate change and biodiversity that surrounds us.
In this solo exhibition Vittorio Iavazzo narrates the cycle of seasons not from a merely climatic point of view, but describing it like "Seasons of the Soul".
Each man flutters during different phases of life, since when he was born, during his growth, untill he dies. The rhythm of this dance is dictated by several ups and downs and the artist describes its notes using his draw to capture a range of emotions on a white piece of paper.
Seasons of life are also influenced by our will and by our everyday choices.
Man might reborn in spring as sprouts surrounded by tarmac and flowers from branches of a huge tree, without surrendering to cold winter.
Man can choose to shut himself in his own world waiting for spring to come or to face winter as a good farmer, seeding for the next crop, in order to embrace again the sun of the upcoming season.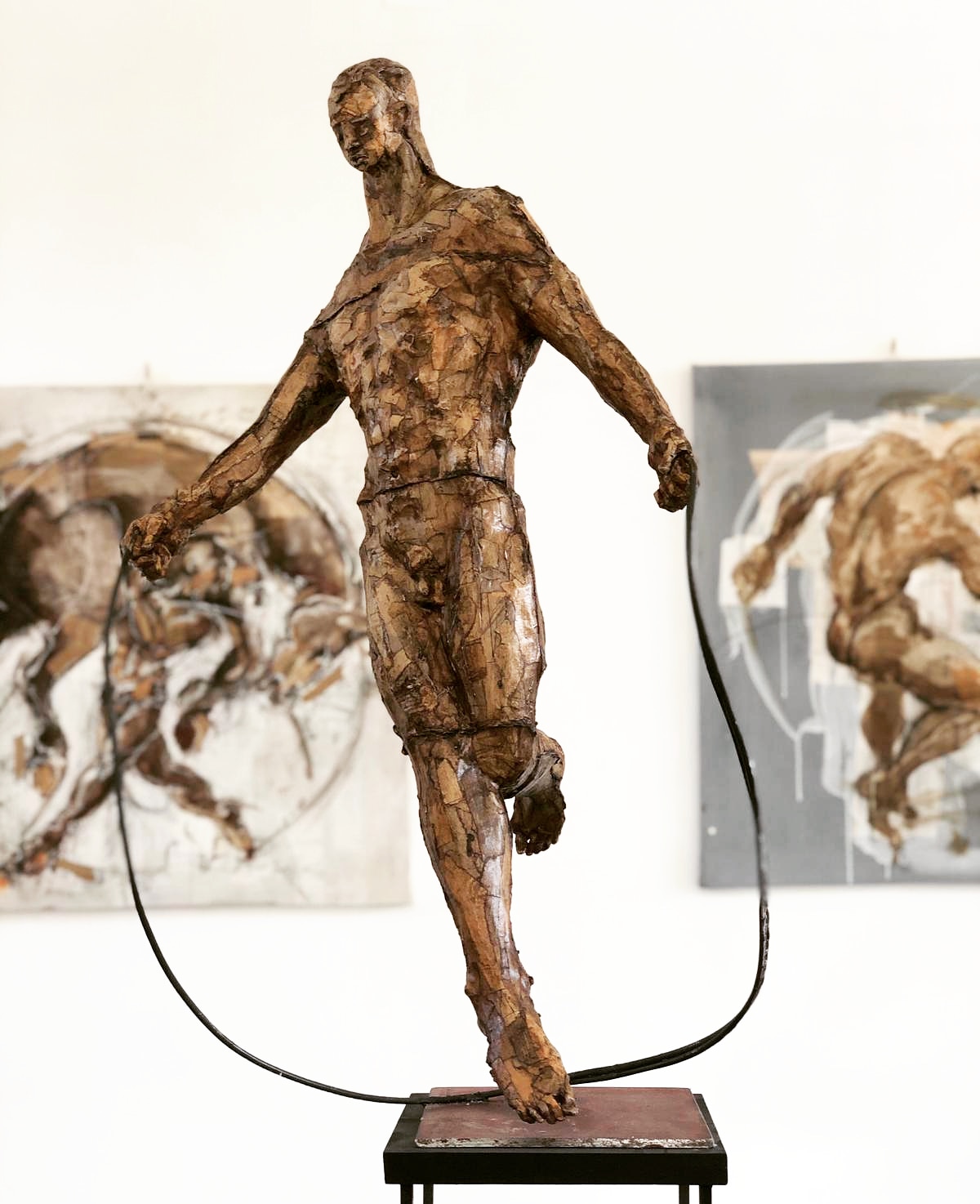 ARTIST BIOGRAPHY
Vittorio Iavazzo was born in 1991 in Naples. In 2010, motivated by a strong passion for art he applied to the Academy of Fine Arts in Naples, where he graduated in 2014 in illustration.
In January 2017, thanks to the project "Young Artists" supported by the Fondazione Mario Moderni, holds his first "Outcast" solo exhibiton in Rome.
Since 2018 he has been represented by the RvB Arts gallery in Rome.
His works in papier-mâché are appreciated and collected not only in Italy but also in: Austria, Baharain, Belgium, United States, Canada, Costa Rica, Denmark, France,Ireland, Malta, Netherlands, Portugal, United Kingdom, Czech Republic, San Marino, Spain and Switzerland.
EXHIBITION
Solo Exhibitions
January 2017 – Outcast, Galleria Moderni, Rome
June 2017, Icarus – Galleria Moderni, Rome
November 2017 – Guerrieri Contemporanei, San Marino
October 2018 – SGUARDI, Spazio Onofri 57, San Marino
May 2019 – Nella materia e oltre, RvB Arts, Rome
July 2019 – Unveiled, SeeBay Hotel, Ancona
July 2021 – Un Soffio di Vita, Palazzo Cappuccini, Naples
Collective Exhibition
November 2015 – XXVII Porticato Gaetano, Gaeta (LT)
March 2016 – Premio Centro Direzionale per l'Arte, Naples
June 2016 – Segni svelati, Scuderie di Palazzo Sansevero, Naples
June 2017 – Biennart – Biennale Internazionale Umbertide (PG)
August 2017 – Nott'Arte San Marino, San Marino
September 2017 – Collectiv'Art, Spazio Onofri 57, San Marino
January 2018 – The Secret Garden, Galleria RvB Arts, Rome
May 2018 – MANI, Galleria RvB Arts, Rome
November 2019 – FOUR2ONE, Isorropia Home Gallery, Milan
May 2021 – CANONE DOPPIO,The Project Gallery, Athens, Greece
September 2021 – CANONE DOPPIO, Palazzo Riso, Palermo
Art Fair
November 2018 – GrandArt Fair, The Mall, Milan
February 2019 – Arte Genova, Genova Fair
April 2021 – Affordable Online Art Fair, RvB Arts
April 2022 – Arte Genova, Genova Fair
CONTACT
Instagram: vittorio_iavazzo
Facebook: VittorioIavazzoArtis